BOTTOMS UP!
Item -
Vintage Rainbow Lace Cami
(Size S/M)
Pair this with vintage belt and necklace to pull off the vintage feel! Bought this piece from Hongkong so you'll not be able to get this here! Well worn, in mint condition. Selling cheap to clear!
This top matches with the vintage streetwear skirt below perfectly!
=)
Now @
$6
ONLY!
Swops @ $10
Item -
Jolin-style Puffy Funky Streetwear Skirt
(Size S/M)
This is definitely one unique design which you'll not get in SG as it's a one-piece-only skirt bought from our Hongkong trip. Chic puffy design flair design, sure stand out from the crowd when worn. Matches with the vintage cami above really well! Didn't get this cheap! In good condition.
Now @
$15
ONLY!
Trades @ $20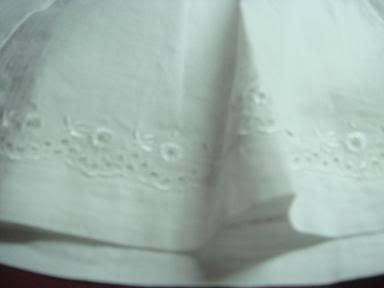 Item -
M)phosis Angelic White Eyelet Mini-skirt
(Tagged S)
Sweet little skirt from m)phosis!
Tagged S, approx measurements taken laid flat across waist is 37cm and length's 36cm.
Side zip closure and lovely eyelet details all around the hem of skirt as seen in the 1st picture.
You can tie a ribbon at the side as seen in the 2nd pic.
Worn about 2-3 times but skirt is still in good condition.
U.P.$50++ if I didn't rmb wrongly..
Now @
$14
ONLY!
Swops @ $18
Item -
Brand NEW Knitted Unique Two-toned Skirt frm HongKong
(Free size, stretchable with drawstrings most probably fits up to a small L)
Very unique tie-dyed knitted skirt bought from our HK trip! Check out Paris Hilton and other hollywood stars are dorning almost the same design but longer ones. Love the special colour toning and it's oh so chic! One and ONLY piece! Drawstrings at waist to tighten/loosen.
NOW @
$15
ONLY!
Swops @$20
Item - Brand NEW Velvet Hot Mini Skirt
(Size S/M)
*Sold to Ms Elaine~!
Item -
Garden Green Mini Skirt
Pair it with your slogan tees and you're ready to head town! In good condition. Measurements will be updated soon.
NOW @
$10
ONLY!
Swops @ $14